contract-management
Contract management software as the basis of business success
Contract management software makes it possible to ensure that a company's entire contract lifecycle is flawless and legally compliant. In this blog post, we'll explain the benefits of contract management software, the key features to look out for, and whether contract management software is the right solution for my business.
Table of contents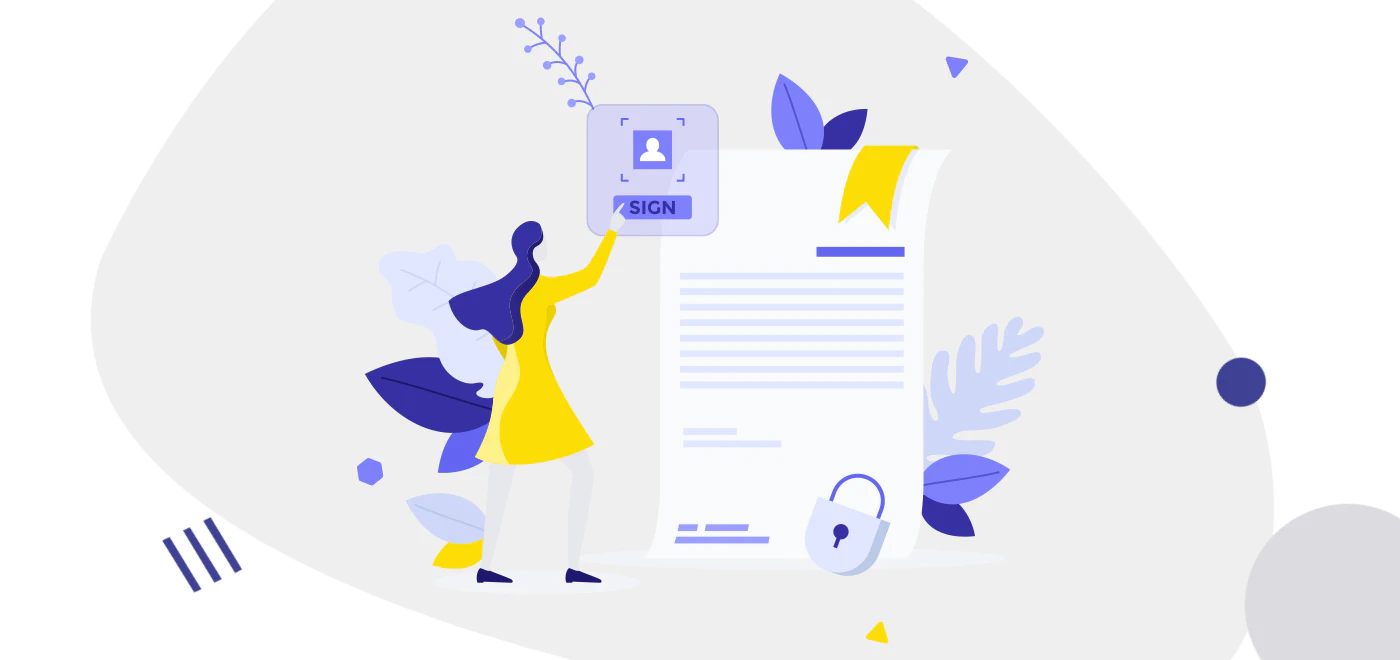 The robust set of tools included in digital contract management software (English also often referred to as contract lifecycle management can help organizations streamline the creation, negotiation, versioning, approval, execution and renewal of legal agreements across multiple teams and departments. The contract management tool also serves as a secure central repository that ensures legal documents are safe and can only be viewed by those with proper authorization.
Setting deadline reminders, tracking changes, and locating documents quickly can all be accomplished with the tools of a good contract management system. In other words, contract management software puts an end to the headaches that come with managing legal agreements in businesses.
Contract management software can help both large and small companies speed up the contract lifecycle across multiple teams while ensuring document security and risk management.
Most executives know that a sloppy contract management process can lead to significant risks. Missed deadlines, unsaved drafts or a poor approval process can cause disruptions to business operations that ultimately result in lost revenue. Once a company reaches a certain point of sustained growth, it is impossible to keep up with the volume of legal agreements that pass through the company without some level of automation and centralized storage. This is often the time when contract management software is introduced to the company.
Benefits of Contract Management Software
Contract management software increases visibility, compliance and security around the contract management lifecycle. It can also lead to a faster contract management process, more deals and more revenue.
Smaller businesses or startups often rely on spreadsheets, shared folders and calendar reminders to manage contracts. This may be effective in the short term, but as a business begins to grow, it will very quickly reach a point where this approach becomes risky and frustrating. As a company's growth increases, so does the volume of contracts and therefore the risk associated with the contract management process. It also becomes increasingly difficult for executives (and others) to find the contracts they need. By automating many components of the contract lifecycle through contract management software, executives are able to increase the growth of the business and the legal agreements that come with it, while managing risk, improving the discoverability of contracts and protecting documents appropriately.
Good contract management software also gives one the peace of mind that all documents are stored in one central location and can be easily accessed by any authorized person, anytime, from anywhere. Intuitive features for searching and assigning permissions make it possible to quickly find what is needed at the moment. This results in significant time savings while giving your teams the ability to collaborate on contract management.
In addition, contract management software allows executives to get a quick overview of the status or location of a particular document. With a high level of visibility into the legal review process and the ability to set reminders for upcoming deadlines, managers have the insight they need to make informed business decisions and are ensured that processes are functioning efficiently.
The key features of contract management software
The features of contract management software that are actually needed in practice depend on a number of factors, such as the number of employees, the size of the company, the industry, and so on. The following is an overview of the most important functions that every company should look for when searching for a digital contract management software:
Effective search and reporting
A digital contract management software is also used as a primary repository for all contracts in an organization. Therefore, a powerful search function is crucial to ensure that various stakeholders can find a document quickly.
One of the most important search functions is Optical Character Recognition (OCR), which makes all scanned documents fully searchable. This feature makes it a breeze to search scanned documents for party names, legal clauses, expiration dates and much more. At a minimum, contract management software should have OCR capabilities and intuitive keyword searching to quickly find contracts, important clauses or problematic wording.
Customizable reports and dashboards are also important. The way different executives use contract management software varies significantly between departments, and the insights they need are naturally different as well. Therefore, look for customizable sorting and filtering features or customizable dashboards in the particular contract management platform to give each team quick access to the information they need.
Setting alerts
Alert or reminder features are a key benefit of contract management software. This can be used to remind the team of upcoming contract renewals or expiration dates so that no deadline is ever missed. However, it is important that digital contract management effectively communicates the reminders. A calendar view can help identify deadlines in time before a contract expires or is automatically renewed. Individual contract management software only trigger reminders within the platform, which can be overlooked by people who do not log in regularly. Therefore, email reminders are an important tool to ensure that important contract dates are not missed.
Central storage location
The contract management software used should serve as a central repository for all legal documents. A searchable central repository supports accessing documents from any location while keeping them secure.
Sharing and role permissions
Not all employees perform the same tasks or need the same level of access to different documents, reports and functions. User roles and permissions are therefore one of the most important components of contract management software, as it enables risk management that is not possible with spreadsheets and shared drives. By restricting the access of specific user:s in contract management software, one can ensure that different user:s can only see what they are supposed to see.
User-based permissions can control risk by ensuring that only people who need access to elements and functions of the contract management software are granted access. Read/Delete prohibitions ensure that only people with appropriate authority (attorneys, executives, paralegals) can edit the contract record or remove contracts from the system.
Security
User permissions are one way to ensure document security, but protecting the contract archive from hackers and data breaches is equally important. When considering cloud-based contract management software, make sure it is based on a reputable hosting environment such as Amazon Web Services (AWS). One should also make sure that the contract management software comes with security features such as encryption, redundancy and virus detection.
Integrations
Depending on the size of the company in question, one may also need to rely on other third-party platforms as part of the contract lifecycle. It is therefore important to use a contract management tool that is compatible with CRM systems or a single sign-on solution, for example. This ensures that the contract management software is also aligned with the company's existing ecosystem.
Support
A dedicated support team can significantly assist with initial integration, provide customized training for employee:s, and provide ongoing support should problems or bugs arise. When making an investment in new contract management software, top-notch support helps you get up and running as quickly as possible.
Investing in contract management software is essential
Contract management software can help companies of all sizes manage the risks associated with the contract lifecycle. Generally speaking, it's essential to invest in digital contract management to streamline contract processes, especially when a company has achieved sustained growth and contract volumes are steadily increasing. At the latest, when a company exposes itself to risk with current processes, prevents employees:inside from collaborating or misses contract deadlines, it is at most time to invest in a contract management software.
Author:

Markus Presle
Contracts can be enjoyable.
Get started with fynk today.
Companies using fynk's contract management software get work done faster than ever before. Ready to give valuable time back to your team?
Schedule demo